Lawyer Well-Being
To connect Pennsylvania attorneys with available resources to better understand and support their mental health and well-being, particularly as they relate to the legal profession.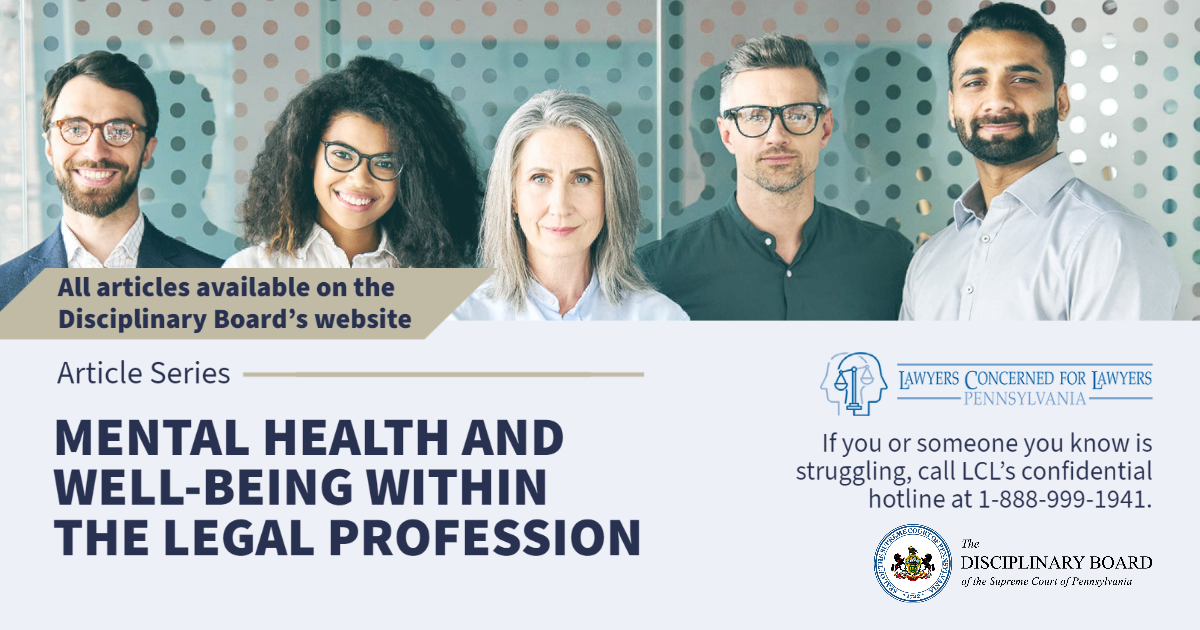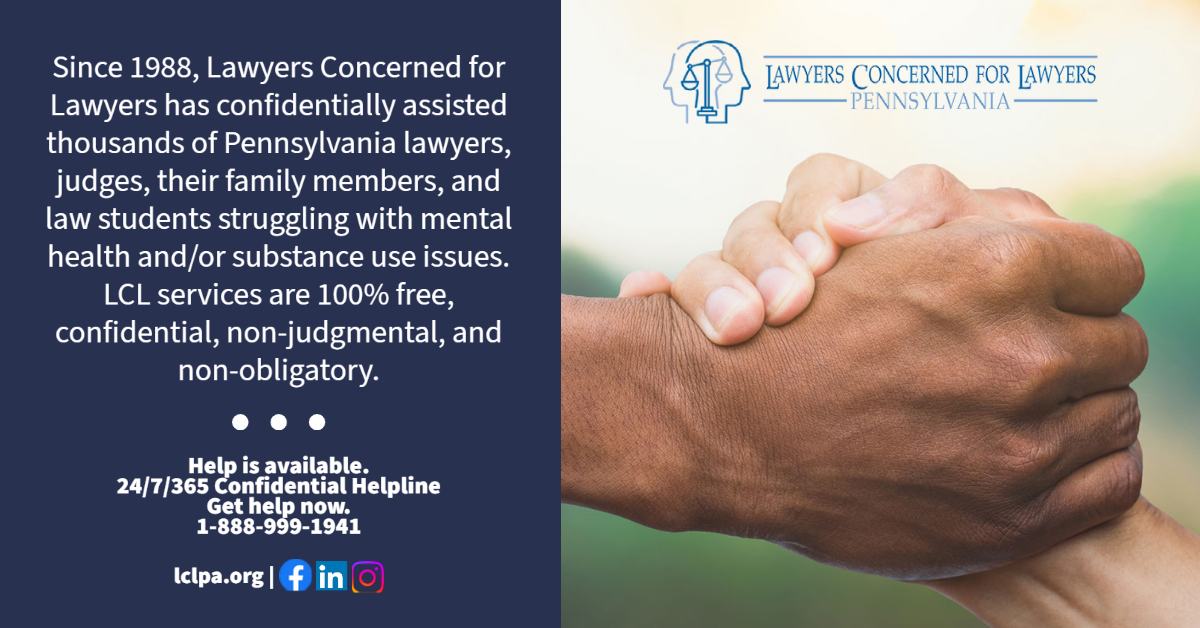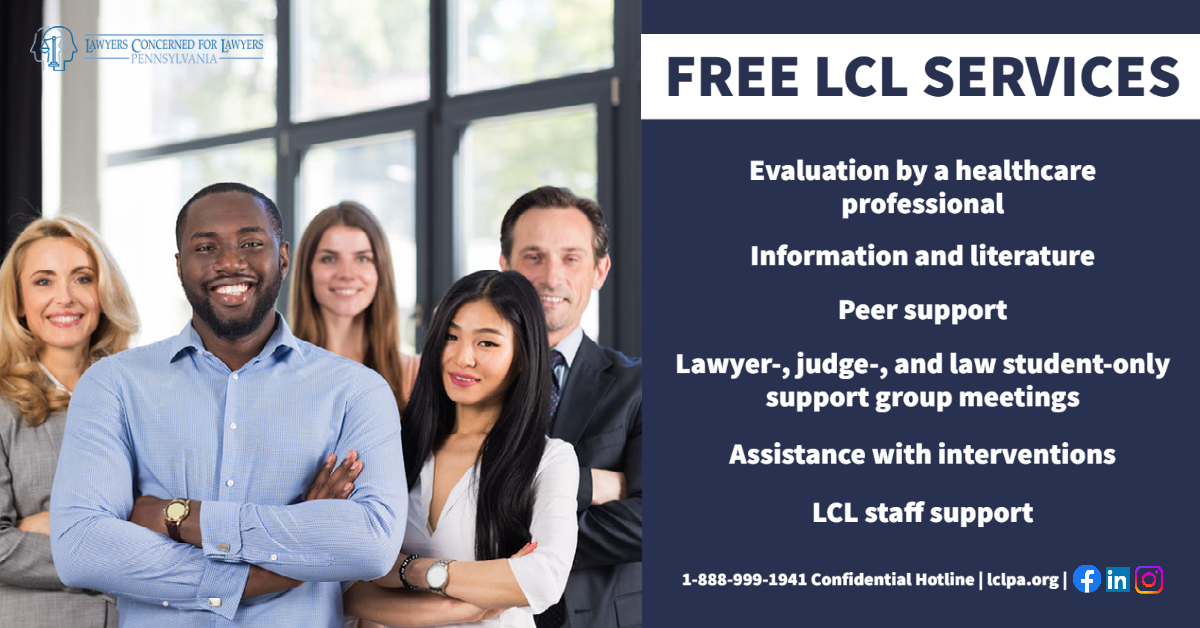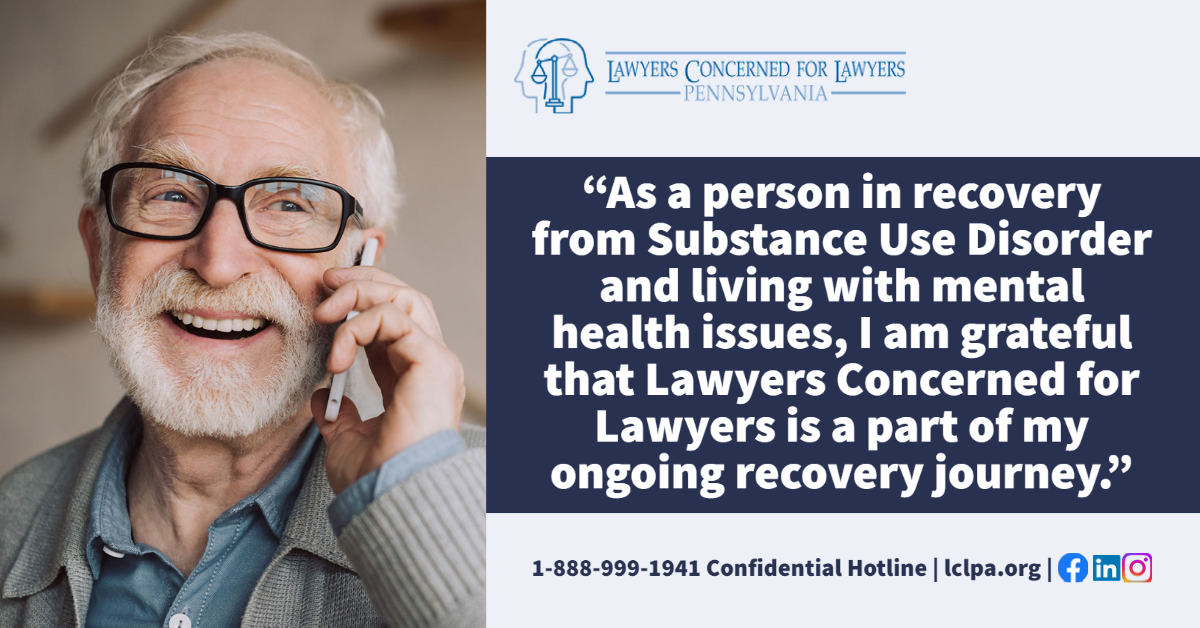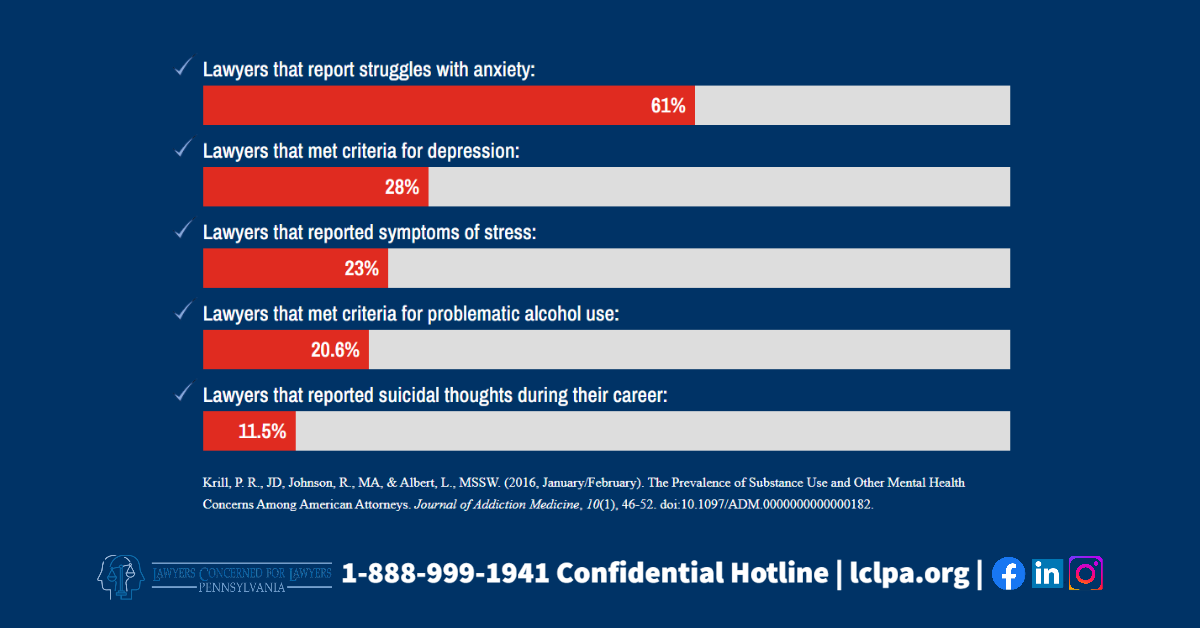 RESOURCES
Lawyers Concerned for Lawyers (LCL) is a confidential and safe resource for Pennsylvania attorneys and their family members who may be struggling with their mental health or substance use. Since 1988, LCL has confidentially assisted and supported thousands of individuals who have faced myriad challenges (including grief, stress, anxiety, depression, eating disorders, gambling problems, problematic alcohol or prescription drug use, etc.), helping them navigate through dark and difficult times. If you are or someone you know is struggling, please call LCL. You may save a life. There is help, and there is hope.
Confidential 24/7 Helpline: (888) 999-1941
LCL facilitates regular lawyers-only, volunteer-run recovery meetings open to attorneys, judges, and law students. Consult the meeting schedule for more information.
LCL is a confidential assistance program for the Pennsylvania legal community and their family members. LCL does not report information about any attorney, judge, or law student to the Disciplinary Board.
Below are resources supporting general mental health and well-being.
Below are resources supporting mental health and well-being within the legal profession.
Below are resources supporting individuals within BIPOC (Black, Indigenous, and people of color) and LGBTQ (lesbian, gay, bisexual, transgender, and queer or questioning) communities.
UPCOMING EVENTS
| | | | |
| --- | --- | --- | --- |
| Monday, September 25, 2023 | 3:00 PM - 3:30 PM | Public Event | Mindful Mondays Virtual Sit, Mindfulness in Law Society (Virtual, Weekly) |
| Wednesday, September 27, 2023 | 5:00 PM - 5:30 PM | Public Event | Wakeful Wednesdays Virtual Sit, Mindfulness in Law Society (Virtual, Weekly) |
| Wednesday, October 4, 2023 | 5:00 PM - 7:30 PM | CLE Event | "Pardon Me: Documentary Film Screening and Panel Discussion" (In-Person) |
| Tuesday, October 10, 2023 | 12:00 PM - 1:00 PM | CLE Event | "Inspiration: We All Have a Carfax", LCLPA & Duquesne University (Virtual) |
| Friday, November 3, 2023 | 12:00 PM - 1:00 PM | Professional Event | "Strengthening Your Emotional Intelligence", PBA Women in the Profession Commission (Virtual) |
| January 23-25, 2024 | TBD | Conference | |
OTHER RESOURCES
CLE AND INFORMATIONAL VIDEOS
---
HELPLINES
Pennsylvania Behavioral Health
Support & Referral Helpline
(855) 284-2494 toll-free
For TTY, dial (724) 631-5600