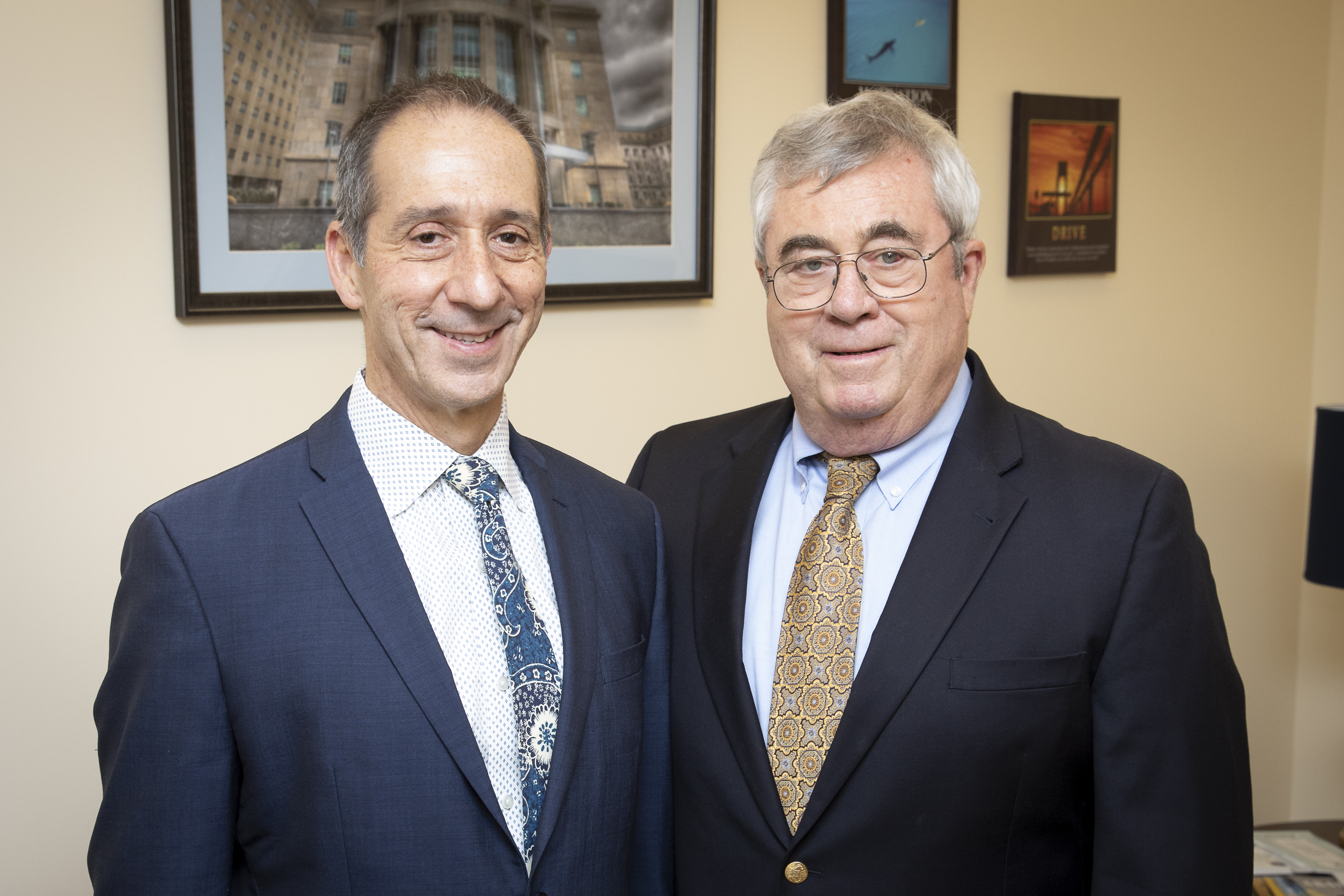 Thomas J. Farrell (left) and Paul J. Killion (right)
After 17 years as Chief Disciplinary Counsel, Paul Killion will retire from the Disciplinary Board of the Supreme Court of Pennsylvania on Jan. 31, 2020.
During his time with the Disciplinary Board, he has managed the investigation and prosecution of all disciplinary cases in the commonwealth. Before his appointment in 2002, Killion maintained a private practice in Harrisburg for 17 years where he specialized in white-collar criminal defense cases.
Killion began his career with the U.S. Department of Justice in 1970 serving as a trial attorney. He also served as an assistant U.S. attorney in Harrisburg and an economic crime coordinator in Boston, Massachusetts. In the early 80's, he was the director of the Medicaid fraud section in the Pennsylvania Attorney General's office.
"We have made dramatic improvements to the disciplinary system with the assistance of volunteer board members and a dedicated professional staff," said Killion. "These actions have helped immensely in our mission of protecting the public and maintaining the integrity of the profession. It has been most rewarding to participate in these achievements."
Paul will be replaced by Thomas Farrell, partner at Farrell Reisinger & Comber, LLC in Pittsburgh.
"On behalf of the Court, I would like to thank Paul for his 17 years of commitment and dedication to ensuring the highest integrity of the attorneys practicing in this commonwealth," Pennsylvania Supreme Court Chief Justice Thomas Saylor said. "We wish him well in his retirement and look forward to welcoming Mr. Farrell as the new Chief Disciplinary Counsel."
Farrell has been in private practice for 19 years, during which time he defended criminal cases from capital murder to white collar crime, conducted internal investigations for municipalities and public authorities, handled complex civil litigation ranging from whistleblower cases to environmental Clean Air and Clean Water actions and represented professional athletes in Congressional hearings.
He previously served as an Assistant United States Attorney (AUSA) in Pittsburgh and as an asst. federal public defender in the Eastern District of New York, after starting his career as a law clerk for Hon. Gustave Diamond of the Western District of Pennsylvania.
Farrell served as a hearing officer for the D-Board for six years and recently served on the Supreme Court's Investigating Grand Jury Task Force.
"I consider this appointment a great honor but also humbling. It'll be quite a challenge to live up to the standard of excellence Paul Killion established for his office, but I'm eager to contribute to the professionalism and integrity of the legal profession in Pennsylvania," Farrell said.